Have you turned on 'Dark Mode' in WhatsApp? Do you want to know which mode is better for your eyes?
Let us see the benefits of dark mode!
Last year, Android & iOS has already released their operating systems, where the users can switch on the dark mode for its user interface. But most of the apps like WhatsApp were not supporting the dark mode.
This was a long-awaited feature that has been requested by many WhatsApp users. Now WhatsApp has officially rolled out dark mode.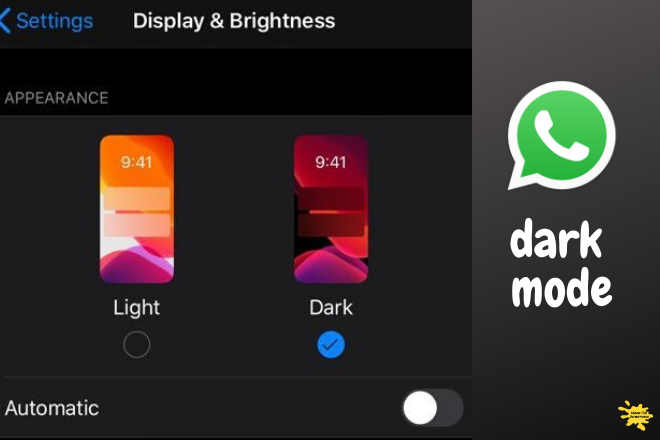 There are many benefits and few disadvantages for the dark mode. WhatsApp in their blog has officially stated out few benefits of WhatsApp dark mode including better readability & information hierarchy.
But there are a lot more benefits for dark mode as mentioned by the experts.
Benefits of WhatsApp Dark Mode
1) Reduce Eye Strain : Dark mode will reduce eye strain in low light environments.
2) Less Power Consumption : Switching to dark mode helps in reducing power consumption. This improves the phone battery life especially if your phone has an AMOLED display.
3) Improves Readability : As stated in the WhatsApp blog, they have used colors that are closer to the system defaults on iOS and Android and colors that will help to minimize eye fatigue.
4) Information Hierarchy : According to the official WhatsApp blog, they have focused on using color and other design elements to make sure the most important information stands out
5) Health Benefits : Dark mode emits only very less blue light. According to research, the blue light emission from the display can affect the body's production of sleep hormone which is known as 'melatonin'. The melatonin is the hormone that will make you sleepy and more exposure to blue light suppresses its production. This affects your sleep and increases alertness.
6) Hides Screen Display Flaws : If your device is having display damage at any potion of your screen, it will only less noticeable when using dark mode.
Disadvantages of WhatsApp Dark Mode
When the screen brightness is higher or when there is a lot of external light in the environment, it will be not very smooth to read in dark mode.
Another negative factor is that, small text in dark mode is a bit difficult to read.
Also, some people do not prefer dark mode as it is not get used by them and will feel discomfort in the initial stages.
How to Enable Dark Mode in Android
Dark mode option is available for all devices after the WhatsApp March 2020 update in the Google Play Store.
To enable dark mode in android devices:
1) Open the WhatsApp settings
2) Tap on the 'Chats' menu
3) Under the display option, click on 'Theme' and choose 'Dark'.

How to Enable Dark Mode in iPhone
To enable dark mode in iOS devices:
1) Open WhatsApp settings
2) Tap on the Display & Brightness menu
3) Under Appearance, choose 'Dark'

Under the Display & Brightness settings, there is also an 'Automatic' switch that you can toggle on. This will automatically switch to dark mode after the sunset and switch back to light mode on sunrise.
Have you turned on the WhatsApp dark mode yet? Which one do you like – dark mode or light mode? Comment your favorite mode below.