Are you looking for a natural hand sanitizer?
Don't worry! You can make it at your home with easily available ingredients.
To make it, all you need is 4 ingredients given below.
Ingredients Required:
Aloe Vera Gel – 3 tablespoon
Apple Cider Vinegar – 1 tablespoon
Lavender Essential Oil – 3 drops
Water- 3 tablespoon
What are the benefits of ingredients
1. Aloe Vera Gel
This natural gel has antibacterial, antifungal, and antiviral properties. When it is present in the hand sanitizer, it also protects our skin and helps to treat the dry skin.
The Aloe Vera Gel is easily available in your market. Also if you have Aloe Vera plant at home, you can easily make aloe vera gel at home.
How to make Aloe Vera gel at home

Cut off an aloe vera leaf and place it upside down in a bowl. Now leave it for few minutes for letting the gel drain out from the leaf.
After that, cut the aloe vera leaf horizontally and scoop the remaining gel with a spoon and pour in into the bowl.
Finally, blend it until it is liquefied.
You can add preservatives like powdered Vitamin C, if you want excess shelf life for the Aloe Vera Gel.
You can keep in the refrigerator for a few weeks without decaying.
2. Apple Cider Vinegar
It has anti-infectant properties that kill germs. Also, it has other healthful properties including anti-microbial and antioxidant effects because it contains acetic acid & malic acid.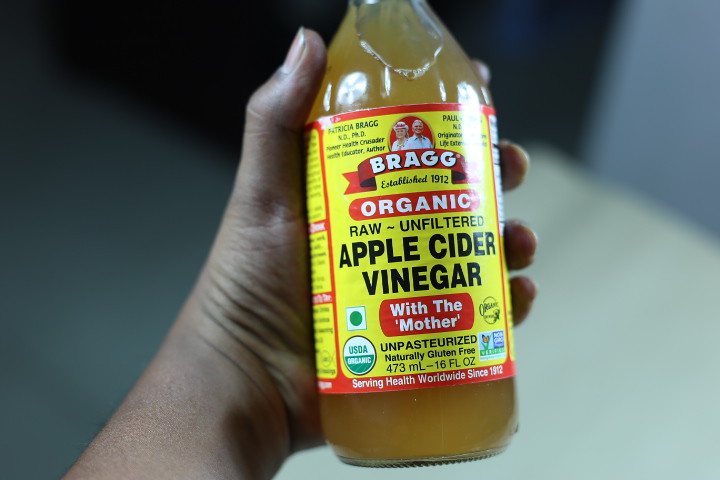 This product is also easily available in your market and can be bought via online shopping websites like amazon also.
3. Lavender Essential Oil
Adding Lavender Essential oil will add aroma for the sanitizer. This product can be bought online or will be available in supermarkets.

How to Prepare the Hand Sanitizer
Step 1: Take a bowl
Step 2: Add 3 tablespoon Aloe Vera Gel
Step 3: Add 1 tablespoon Apple Cider Vinegar
Step 4: Add only 2 to 3 drops of Lavender essential oil as it is very strong & it will add the aroma to the sanitizer.
Step 5: Mix the ingredients and pour in into a bottle.
Your Alcohol-free hand sanitizer is ready.
But before using it make sure to check the ingredients thoroughly for any allergic tendency for your skin. Also please check with a medical practitioner or expert before using this sanitizer if you are planning to use it for any specific purpose or situation.